---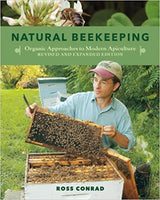 Whether you are a novice looking to get started with bees, an experienced apiculturist looking for ideas to develop an integrated pest-management approach, or someone who wants to sell honey at a premium price, this is the book you've been waiting for.
Now revised and updated with new resources and including full-color photos throughout, Natural Beekeeping offers all the latest information in a book that has already proven invaluable for organic beekeepers. The new edition offers the same holistic, sensible alternative to conventional chemical practices with a program of natural hive management, but offers new sections on a wide range of subjects, including:
The basics of bee biology and anatomy
Identifying and working with queens
Also, a completely new chapter on marketing provides valuable advice for anyone who intends to sell a wide range of hive products.
Other chapters include:
The Future of Organic Beekeeping