---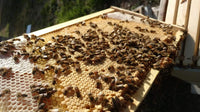 Spring 2023 4 Frame Honey Bee Nucleus Colony. 
** PICK UP ONLY ***
4 frame Nucs with drawn frames with at least 2 frames of brood and 1 frame of honey and pollen as well as a Laying Queen.  
Nucs are supplied in a disposable Nuc Box to make transportation convenient.
Nucs will be available for pickup starting mid-May.  
Reserve now and choose your pickup date to reserve your spot in line!
Don't miss your chance to start or expand your apiary next spring.
The full Price of Spring 2023 Nucleus Hives is $245 per Nuc.
Deposits on Nucleus Hives are not refundable.
Please select the date you will be picking up your Nuc above.  
We are a certified Ontario Honeybee Queen, Nucleus and Colony Producer. Our Apiary is inspected by an Ontario Apiary Inspector and our bees are approved for sale. If required, we only purchase additional stock from certified sellers in Ontario that we trust.
Your satisfaction and trust is our number one goal.